EverString

End-to-end content marketing for an award-winning B2B data provider.
Job Role: Director of Content Marketing

Industry: AI / Data Science

Led Since: 2019
At EverString, I'm grateful to have the opportunity to lead the strategic vision and hands-on implementation of all company content, messaging, communications, as well as branding. This includes a heavy emphasis on sales enablement, SEO, public relations, thought-leadership, events, and much more.
AWARD-WINNING RESULTS: With the motto of "One Team, One Goal", we achieved the company's record-breaking pipeline and revenue quarters in 2020, earning us a place on the prestigious Inc. 5000 List of Fastest-Growing Private Companies in America!
At EverString, I am proud to be the driving force behind the following company initiatives and channels:
Branding & Messaging
Cohesive Style Guide
To ensure a consistent brand experience across our assets, and to streamline the production of new content, I led the development of a comprehensive Style Guide & Brand Kit, that included:
Logo guidelines
Font styles
Color palette
Illustration system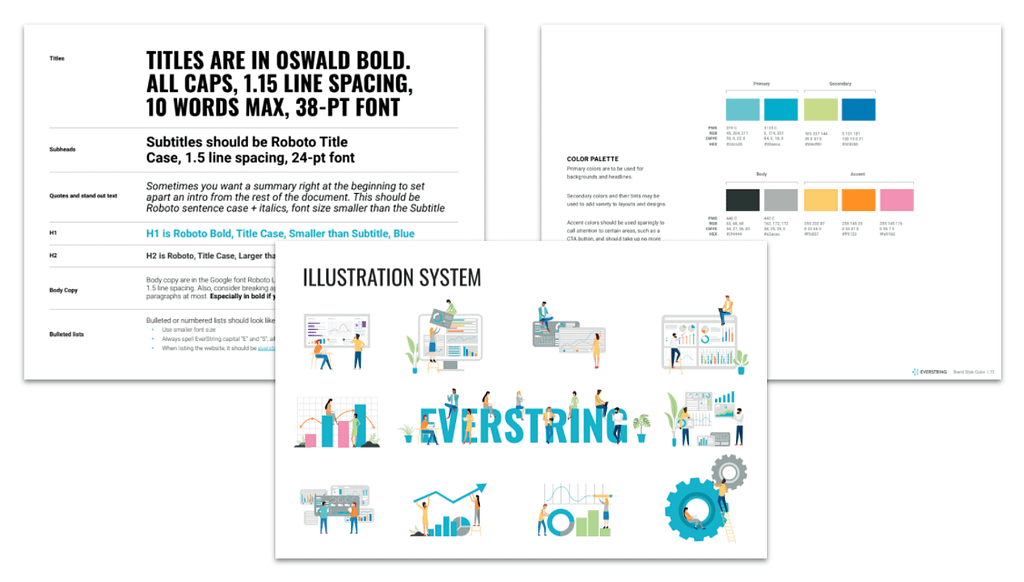 eBooks, Guides, White Papers, & Tools
Video Game-Themed eBook Full Of Stats & Customer Quotes
12-Page eBook With Stats, Customer Stories, & Graphics
Guide To California's Consumer Privacy Act (CCPA)
PDF + Video + Blog Series:
Demystify The Origin Of Business Data
In-Depth White Paper On Tech Innovation
Comprehensive Buyer's Toolkit With Corresponding Landing Page
Interactive ROI Calculator
Digital Game Experiences
Video Production
Blog & Email Marketing
I produced regular blog content, collaborating across departments and with key stakeholders to craft the message, story, or convey the key value points relevant to our target customer personas.
I also contributed to the email nurture campaigns we ran, developing optimal subject lines and body content, A/B testing, leveraging email marketing best practices and analyzing performance results.
Here are some samples of my EverString writing projects:
Customer & Product Marketing
Case Studies & Customer Testimonials
Here are some examples of my customer case studies writing:
Datasheets
eNewsletter
Sales Enablement
As a B2B data provider, EverString's sales team is the lifeblood of their revenue operations. For us, that meant a coordinated, account-based marketing strategy.
To support this cross-departmental effort, I established the company's resource intranet, a library all the latest content assets, sales resources, and other brand materials available to all employees.
With support from executive leadership, I also created, organized, and led the company's first regular Sales Enablement Huddles. These biweekly meetings were hosted in-person and virtually and invited all team members from sales, marketing, and customer success departments, providing a great opportunity for everyone to communicate and collaborate about upcoming initiatives.
Web Design & Development
Fresh, New Website Images
Using the newly created Illustration Set from the Style Guide, I managed the development of new, fully-customized, brand-cohesive website images, in collaboration with our in-house graphic artist.
The goal with the new website graphics was to create a series of high-resolution, custom images that would depict product and team performance, collaboration, and success.
Launched New Resource Library
The original EverString Resource page was fairly static, with tabs to explore by asset type. We wanted to expand the visitor's experience by providing more ways to search and browse resources on our page.
Enhanced search features include:
A Google-like search bar, with autocomplete
Color coded asset tags, for at-a-glance browsing
Filter by asset type, topic or relevant job role
Engaging with our web design and development teams, the project spanned approximately two months and included: mockups and wireframes, a comprehensive asset audit, design and art direction, and successful implementation and go-live.
Social Media
Public Relations & Awards
Survey Monkey Stackies Comic Strip
Inc 5000 List Recognition
I led the application process for our recognition in the prestigious Inc 5000 List Of The Fastest-Growing Private Companies In America. I also wrote the press release.
Company Timeline
---
---